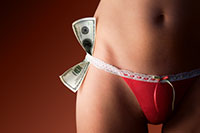 Is strip poker just one of porn games or a sophisticated adult game?
The history of strip poker
The idea of playing games of chance with clothes on the line has existed for centuries. But as for the specific origins of strip poker, some historians believe that it was spawned in New Orleans brothels and bars with numerous hot girls working there, during the late 19th century. The actual term "strip poker" wasn't coined until 1916, when "The Technology Monthly and Harvard Engineering Journal" published the following joke:
"Say, Bill how did the game come out?"
"It ended in a tie."
"Oh, you were playing strip poker."

Adult games in the literature

Following this publication, strip poker would continue to appear in various pieces of literature, such as Eric Linklaters' 1931 novel called "Juan in America." Linklaters, a Brit visiting America, discussed how he saw a lady lose her clothes during a game. In 1939, the first account of strip poker outside of the United States was published in "A Coffin for Dimitrios." This book talks about an adult game that takes place in a villa in Istanbul, Turkey.

Strip poker is not a porn game

Since the time of these publications, poker and its adult variation have spread all over the world. Nowadays, the game is widely known and most people have a basic understanding of how it works. Apart from porn games strip poker focuses on teasing, subtle nudity available step by step.
The computer games industry instantly recognised the potential in beautiful, sexy girls. The company Artworx introduced in 1982 the game called "Strip poker" for Apple II computers, which was later transferred to many other platforms and lead to the development of many other games that crossed the thin line between adult and porn games.

Adult games conquer the world

In the mid-1980s, a game called Samantha Fox Strip Poker, starring Samantha Fox, was published. It was very classy, subtle game you would never call a porn game although there was nudity. She was an established star of the music and fashion industry at this time and without a doubt contributed to the increase in popularity of computer-based adult and porn games.
The first strip poker games offered nothing more than still pictures of naked, hot girls on very small windows with the models stripping without much relation to the game. Almost 20 years passed until computers become capable enough to handle high quality interactive video. It all changed in 2002 as Torquemada Games introduced its Video Strip Poker. Torquemada Games always cared to create adult fun without that little factor that would change this adult game into a porn game. You can read the fascinating story of Torquemada Games and its Video Strip Poker games in a separate article.
The raising popularity of strip poker at the end of XX century moved it up from the "underground". Strip poker wasn't simply for having a little fun at private parties anymore. You could play sexy game with beautiful girls with no embarrasment of playing porn games.
Strip poker goes mainstream because it's no porn game

Adult games like strip poker quickly established itself in pop culture as well. Its popularity was used in mainstream movies such as "Nobody's Fool" where Bruce Willis plays strip poker in one of the scenes or computer games such as the popular "Dead Rising 2" where the main character plays strip poker with few friends and is saved from the zombie attack.

No wonder strip poker became so famous in only few years and became the most popular kind of the adult games entertainment! Even celebrities have recognised strip poker as great entertainment and even a way to make money.
Carmen Electra, one of the sexiest women of the late 20th century, hosted the movie Strip Poker Invitational. In this movie, sexy naked models were playing none other than strip poker. One of the stars of this movie was also Erica Schoenberg, former professional volleyball player and model and current professional poker player.
You can also meet a few well-known starlets, including Neriah Davis and Carrie Stevens, in a PC xxx game that is still available. Both are American models and actresses who have starred in series like Rock Star and Beverly Hills 90210, and Kelly Monaco – an actress known from the Baywatch series and also as the winner of the first season of "Dancing with the Stars".
Additionally, Naya Rivera, an actress starring in the popular teen series Glee, acted in a very sensual shot focused on strip poker.
The notorious Lady Gaga is also familiar with the subject. In the erotic video clip to her song "Poker Face" she participates in a passionate strip poker game.
Strip poker: a popular adult entertainment for those who don't want to play explicit, coarse porn games
Thanks to the immense popularity of computer-based strip poker games such as the outstanding Video Strip Poker family and celebrities' acceptance of the game, strip poker has most definitely gone public and you can play Video Strip Poker on your PC not being embarassed by a crude porn game. Many strip poker tournaments with hundreds of participants have taken place in the last few years and the biggest and best-known tournaments are listed in a separate article.