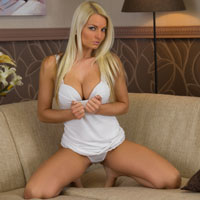 Naughty Jessie ready to rumble!
2014-May-30
new opponents
All Video Strip Poker HD opponents have one thing in common for sure: they are beautiful and sexy women.
However, they differ in terms of personality and temperament. Recent opponents tried to fool you and beat you with their apparent shyness. Now, it's time for a girl who never hesitates. She's Jessie. Face the challenge of outsmarting her and get the reward of her slender, tanned body, juicy breasts and curvy bottom begging for a slap.
Welcome to our online shop and the gallery, if you would like to know Jessie little better before you dare to play with her.
We wish you great fun!

Play for fun on your computer, tablet or phone.