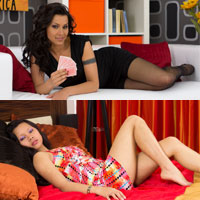 Cindy and Kobe available!
2014-Jun-27
two new opponents
Discover another two beauties wishing to check your strip poker skills.
The first one is a phenomenal beauty Cindy, whose statuesque body and self-confidence will be difficult but also exciting challenge for your senses.
The other new opponent is Kobe. At first sight she might look like inconspicuous chick from the Far East but in fact she is bold and passionate poker player.
You will find sexy pictures of both girls in the "more girls" section of the website.

Play for fun on your computer, tablet or phone.