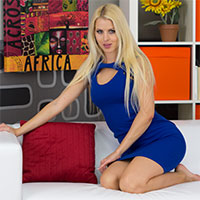 Stunning blonde Lynna invites you to play poker
2014-Aug-22
new opponent
Do men really prefer blondes? If such a stunning blonde girl like Lynna joins the game than probably yes!
Lynna loves games. What she doesn't like at all is losing. She will use each of her numerous assets to make you lose. Keep in mind that all those kisses she blows to you with her juicy lips, her outstanding butt, or perfect boobs are nothing but a set up :)
You can find Lynna and her sexy pictures in the gallery. She's ready to play an adult game.

Play for fun on your computer, tablet or phone.