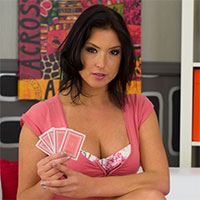 Meet Tracy, the busty girl living next door
2014-Sep-19
new opponent
If Tracy lived in your neighbourhood you probably wouldn't notice her initially. But every morning you'd see her crossing the street,
waving her bosom, shaking her round butt your growing need to meet her closer would turn into an obsession eventually.
Her seductive glance, big and natural breasts, feminine shapes and, last but not least, cute smile are perfect currency to be used in a strip poker game.
Feel free to visit Tracys galery and to play with this understated sexbomb!
Have lots of fun with Tracy!

Play for fun on your computer, tablet or phone.