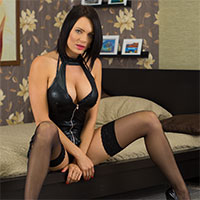 Get ready for a rough game with Diana
2014-Oct-03
new opponent
Today, Diana joined our adult game team.
This 30-year-old girl hates when things don't go to her liking, so you can be sure you're gonna have thrills not only when you would see her slender body, long legs, shapely breasts and bottom but also when she would give you that fierce, predatory and sexy stare.

Play for fun on your computer, tablet or phone.