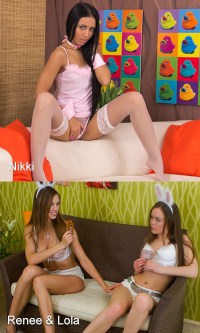 Remastered bunnies in HD - your gift for Easter
2016-Mar-19
free bonus opponents
Easter is coming and we have just finished remastered-in-HD versions of our popular Easter Bunnies you might have seen in Video Strip Poker Supreme before.
Easter Bunnies are available as free gifts with purchase of other opponents. Don't wait and order your favorite opponents now to get your presents on Easter Sunday morning.
If you wish to get Nikki as a gift, order any 3 opponents and use EASTER1 as a voucher. If you want a duo of bunnies: Renee and Lola, order any 3 opponents and use EASTER2 as a voucher. If you prefer both Nikki and a duo, just order any 5 opponents and use EASTER3 as a voucher.
The vouchers are valid till the end of March.

Play for fun on your computer, tablet or phone.