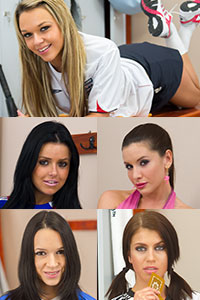 Hot fans from Supreme Sports Fans Pack available in HD!
2016-Apr-22
new remastered opponents
We are pleased to announce that 5 hot opponents from Supreme Sports Fans Pack are available in Full HD from now on. Feel free to play with cheerleader Gia, english team fan - blonde Kelly and the 3 other girls, who speak the languages of their favourite teams: fragile Anna speaks Italian, tasty Estelle speaks French and Krisitine speaks German.

Choose all 5 girls and use the voucher 5GIRLS20 in the summary of your order to receive 20% discount on your purchase price.

Play for fun on your computer, tablet or phone.