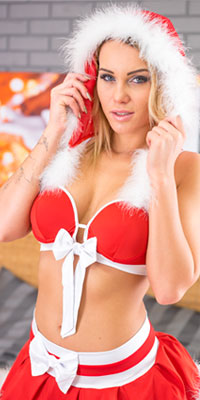 Monica – Christmas 2016 Santa Girl just released!
2016-Dec-24
new bonus opponent
As every year, this Christmas we have great news for the Video Strip Poker HD fans! Monica, Santa Girl 2016 has been just released for you. If you used the voucher MONICA in December, you can start playing with her just now!
However, if you haven't decided to receive Monica as your X-mas present yet, it's a great moment to do it now: order at least 4 opponents and type MONICA as a voucher in the summary of your order to have her waiting for you in the game just a few moments later.
Monica isn't the only Santa Girl you can get. Our previous Santa Girls are available too: they are Cassie, Caroline, Mikaela, Mia, Victoria i Natalie.
You can receive any of them even easier than Monica: just use Santa Girl's name as a voucher with any order of as few as 3 girls.
But remember, don't hesitate too long! Monica and other Santa Girls will be available as gifts only until end of December. If you miss this offer, the next one won't be available until next Christmas.
Torquemada Games wish Merry Christmas and lots of fun with all the Santa Girls to all fans of our game!
P.S. The fans who have all the opponents will receive, as always, Santa Girl 2016 as a gift too. Look out for an e-mail from us!

Play for fun on your computer, tablet or phone.