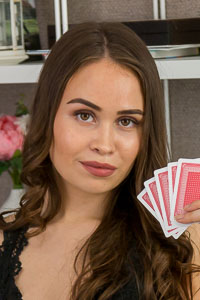 Jenny: a walking contradiction joins the game
2019-Nov-08
new girl in game
We are pleased to introduce brand new opponent ,whose name is Jenny, to you. You will be intrigued by her duality: on the one hand her innocent eyes suggest a gentle nature. However, on the other hand, her full, lipstick emphasized lips promise a really hot temper...
It is up to you to discover what her true nature is like. All you have to do is... win ;-)
Click here to see more pictures of Jenny

Play for fun on your computer, tablet or phone.