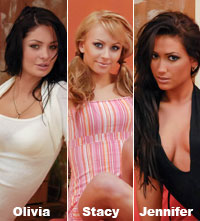 3 girls from the Video Strip Poker Supreme are available in HD now
2020-Jul-10
new girls
We always wanted to transfer all girls from the Video Strip Poker Supreme to the Video Strip Poker HD, however their DVD quality stopped us from doing it. Today, thanks to the complicated process of image quality improvement with the help of AI techniques, it was possible to remaster the original video to obtain near HD quality. Today we are introducing the first 3 girls remastered and improved this way. Please meet Olivia, Stacy and Jennifer.
It is worth mentioning that during the game, the girls behave according to the rules of the original Video Strip Poker Supreme, i.e. the buttons with peppers activate sexy special gestures, revealing more and more and the virtual fee for these gestures goes to the pool so you can regain it if you win the hand.
You will probably also appreciate the fact that these girls are cheaper than the regular HD opponents. We wish you lots of fun with these beautiful girls!

Play for fun on your computer, tablet or phone.