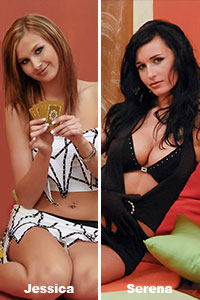 Jessica and Serena have been just added to the Video Strip Poker HD
2020-Jul-24
new girls in game
Today we have released two more girls from the Video Strip Poker Supreme. They are Jessica and Serena from opponents set #5. Thanks to processing of the original video with AI you can play with them in HD.
During the game, Serena and Jessica behave according to the rules of the Video Strip Poker Supreme, i.e. hot pepper buttons allow you to see sexy special scenes, where the girl shows a bit more and the virtual payment for these gestures goes to the game pool and can be recovered if you win the hand.
Additionally, Jessica and Serena are cheaper than regular HD opponents. We wish you a lot of fun in their company!

Play for fun on your computer, tablet or phone.