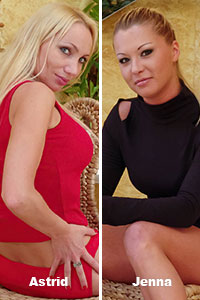 Astrid and Jenna join the Video Strip Poker HD
2020-Sep-25
new remastered girls
Today we have added to the Video Strip Poker HD two new girls originally starring in the Video Strip Poker Supreme. Their videos have been enhanced with AI-supported tools to improve the video quality to near-HD level. Please meet Astrid and Jenna!
The game with these girls follows the rules of the Video Strip Poker Supreme. It means that if you click the pepper-buttons during the game the girls will show you a bit more nudity than in the current stage and the fee, which goes to the pot, can be won back.
Also, these girls are cheaper than the regular HD opponents. Have fun!

Play for fun on your computer, tablet or phone.