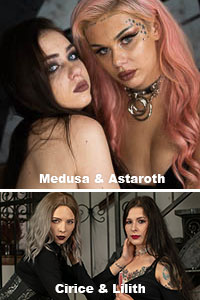 4 witches to visit the game as a Halloween bonus
2020-Oct-17
Special Halloween offer
Please meet new 2 goth witches to appear in the game on Halloween night. From now on you can order them as a free bonus. Just type HAL20 as a discount voucher with your purchase of any 4 girls and Medusa & Astaroth will appear in your game on 31st of October.
Also, last year's witches are back and you don't need to wait until Halloween to play with them. Just purchase any 3 girls now and use the promo voucher HAL19 to get them today!
Please remember you won't find any of these witches anywhere else but in the Video Strip Poker HD.

This promo offer will expire on November the 1st and after this date you will not be able to purchase the witches until next year's Halloween.

Play for fun on your computer, tablet or phone.