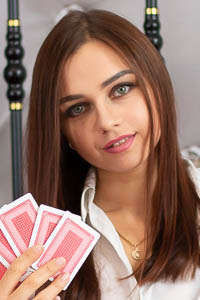 Eve: shy & cute amateur
2020-Dec-11
New girl in game. Exclusively in Video Strip Poker HD.
Please meet new girl who has joined the game just today. Eve is a 100% amateur and she usually doesn't make her naked pictures available to the public. So, we find it really exciting that you will not find her video anywhere else but in the Video Strip Poker HD. The fact she is an amateur is also the reason she is not as daring and explicit as some other girls, but frankly we hope you will find this cute girl really enjoyable.

Play for fun on your computer, tablet or phone.