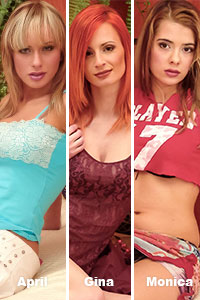 April, Gina and Monica have joined the game in HD today
2021-Feb-05
new remastered girls
Today, 3 new remastered girls: April, Gina and Monica have joined the game. All three of them are magnificent, so you'd better not choose between April's perfect body, Gina's slender shapes and really massive natural boobs and Monica's big natural breasts and feminine curves. Just grab them all!
This way all the girls that ever appeared in the Video Strip Poker Supreme are now available in remastered HD quality in Video Strip Poker HD and they are cheaper than regular HD girls. If you decide to buy 5 of them use the coupon 5GIRLS20 to receive a 20% discount. We wish you lots of fun with the girls!

Play for fun on your computer, tablet or phone.