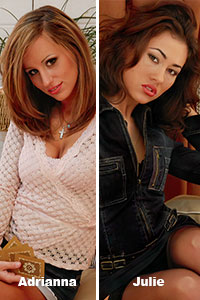 Two new girls from the Video Strip Poker Classic are available in HD quality
2021-May-21
new remastered girls in the game
Today, we have released another 2 girls in HD quality originally starring in the Video Strip Poker Classic: Adrianna and Julie. The picture quality has been significantly improved with an advanced AI-supported tools to receive near HD quality. The game with these girls offers the same fun as the original Video Strip Poker Classic so please keep in mind that the girls won't talk to you and the special gestures on demand won't be available as they would be with regular Video Strip Poker HD girls.
If you place any 5 girls in your basket use the 5GIRLS20 voucher to receive a 20% discount i.e. one of them free.

Play for fun on your computer, tablet or phone.