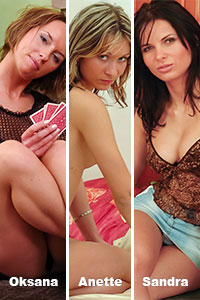 Classic's Anette, Oksana & Sandra are available in HD quality
2021-Jun-21
new remastered and extended girls
Today, we are releasing three new remastered girls: Anette, Oksana and Sandra originally starring in Video Strip Poker Classic.
All three are really gorgeous and worthwhile: Anette is a really cute sweetie with a petite, smooth body. Oksana's long legs, juicy lips, seductive glance and unbelieveable sexappeal will ravish you. And Sandra will lure you with her great shapely body, beautiful boobs and cute face. The video length with these girls have been significantly extended compared to the original so don't choose - just grab them all and use SAVE10 voucher to get 10% discount.
Please upgrade your game.
Important information: all the new girls released after 15th of June, 2021 require the latest Video Strip Poker HD+ game engine and due to technical limitations they will not work with any older version of the game. If you still don't use the Video Strip Poker HD+ you can download it now from strippokerhd.com/download
The videos have been remastered with an advanced, AI-supported quality improvement process, which allowed us to offer them to you in HDReady quality. The game with these girls offers the same fun as the original Video Strip Poker Classic so please keep in mind that the girls won't talk to you and the special gestures on demand usually will not be available.
Click here to see more pictures

We wish you plenty of fun with Anette, Oksana & Sandra!

Play for fun on your computer, tablet or phone.