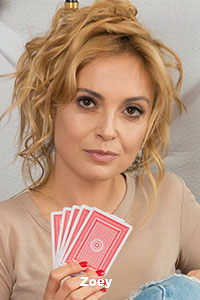 Zoey: self-confident MILF in the game from now on
2021-Jul-09
new girl in game
Zoey is 34 years old, so she has gained some life experience. This allows her to come fearlessly face to face with anyone who would like to undress her during a strip poker game. Her condescending smile, revealing that she is convinced of her victory, will only give you the greater satisfaction when you show her how wrong she is. During the game, Zoey is calm and self-confident, but when she has to pay her debt, she does it willingly, without hesitation and without a bit of shame. Winning against Zoey will be all the more enjoyable that this slim MILF has a very nice, natural breasts with a discreet, attractive piercing in the nipple and is really willing to show her charms.
And last but not least: Zoey is an amateur and you can meet her only in the Video Strip Poker HD!

Play for fun on your computer, tablet or phone.