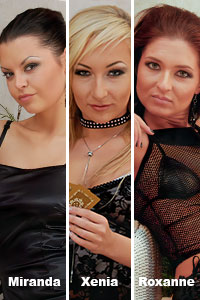 HD remastered Miranda, Roxanne and Xenia
2021-Jul-30
new remastered girls
Today, we've released three new remastered girls: Miranda, Roxanne & Xenia. They were originally published in the original Video Strip Poker Classic.
Roxanne is a cool-tempered, self-controlled girl just begging to challenge her. Xenia will tease you with her beautiful foxy eyes, inviting smile and beautiful round butt. Miranda's sex appeal is absolutely stunning with her teasing moves, spectacular show, perfect firm breasts and stunning slim body. You will love her and there's no other option.
Order all three girls now and enjoy the 10% off with SAVE10 voucher. Or order 5 or more girls and use the 5GIRLS20 voucher to receive a 20% discount.
We wish you lots of fun with Miranda, Roxanne & Xenia!
An advanced, AI-supported quality improvement process allowed us to offer you these girls in near HD quality. However, the concept of the game with these girls is the same as the original Video Strip Poker Classic so the girls won't talk to you.

Play for fun on your computer, tablet or phone.