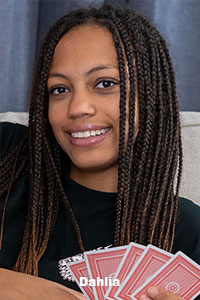 Dahlia: joyful personality, lovely smile and curvy bottom
2021-Oct-22
new girl in game
Dahlia's beautiful goddess braids, really joyful personality, lovely smile, passionate lips and curvy bottom are the assets you may not resist if only you start playing cards with her. Regardless she is very young, only 19, don't expect any shyness from her. She really has lots of fun while playing the game, even when she loses because she knows the more naked she is the more distracted you are.
Don't forget about our special Halloween offer: get free bonus girls if you use voucher HAL1 (free witch Aimee with purchase of any 4 girls) or HAL2 (free duo of witches Cirice & Lilith with purchase of any 3 girls).

Play for fun on your computer, tablet or phone.