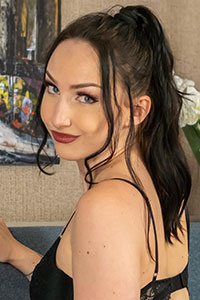 Bella joins the game today!
2023-Oct-06
new girl in the game
Bella, radiating with joy and an ever-present smile, joins us today! Always up for a chat and a laugh, she brings a breath of fresh air and carefreeness to the game. Uninhibited and confident, Bella isn't afraid of challenges and will surely enhance the excitement of strip poker. Her cheerful nature and sense of humor will undoubtedly spice up every round. Just like her shapely body, flirtatious gaze, and alluring movements. Are you ready for such company at the table? Join the game!

Click here to see more pictures of hers!

Play for fun on your computer, tablet or phone.