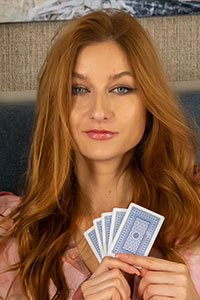 Caroline, the new opponent, has appeared ready to play today!
2023-Nov-17
new lady in the game
Caroline (27) is like a cat lounging on a couch: she's in no hurry, composed, and tactically playing her cards at her own pace. However, the more clothes she loses, the sexier she becomes. She's got really wonderful and always ready for fun boobs, which you can find out if you win her clothes. May you enjoy wonderful moments with Caroline!

Click here to see more pictures of Caroline!

Play for fun on your computer, tablet or phone.